Fully furnished Berlin apartment available for rent (or swap). From Mar/Apr 1st, 2020, until end of September (there is some flexibility, just ask). Available to colleagues on a sabbatical in Berlin. Suitable for one person or a couple, not set-up for a family.
Location
Near Prager Platz in Wilmersdorf. Berlin University of Arts (UdK Berlin) is within walking distance (5min), Free University of Berlin (FU Berlin) and TU Berlin can be reached by public transport in 10-15min. Quiet side street, all shopping conveniences close by.
Apartment
Classic turn-of-the-century Berlin apartment (Altbau) with all the charm you want: High ceilings, wooden floors, stucco, airy and good light (east-west axis), healthy climate due to traditional windows, etc. The parquet is uneven in places (common in Altbaus), but all furniture has been balanced out.
Kitchen, bath, hallway + three large rooms (one actual bedroom, one dining room, and one combined living and office room), and a balcony. Total size is 120qm (~1300 sq ft).
Third floor (with elevator) in European counting (fourth floor using U.S. counting), front side of building, facing the street (Vorderhaus), in a five-story building.
Photos were taken end of year 2019, in the middle of winter, so they feel somewhat dark. In summer there is more light.
Kitchen
Spacious kitchen with all the facilities and tools you need. One quirk: The washing machine is also installed in the kitchen.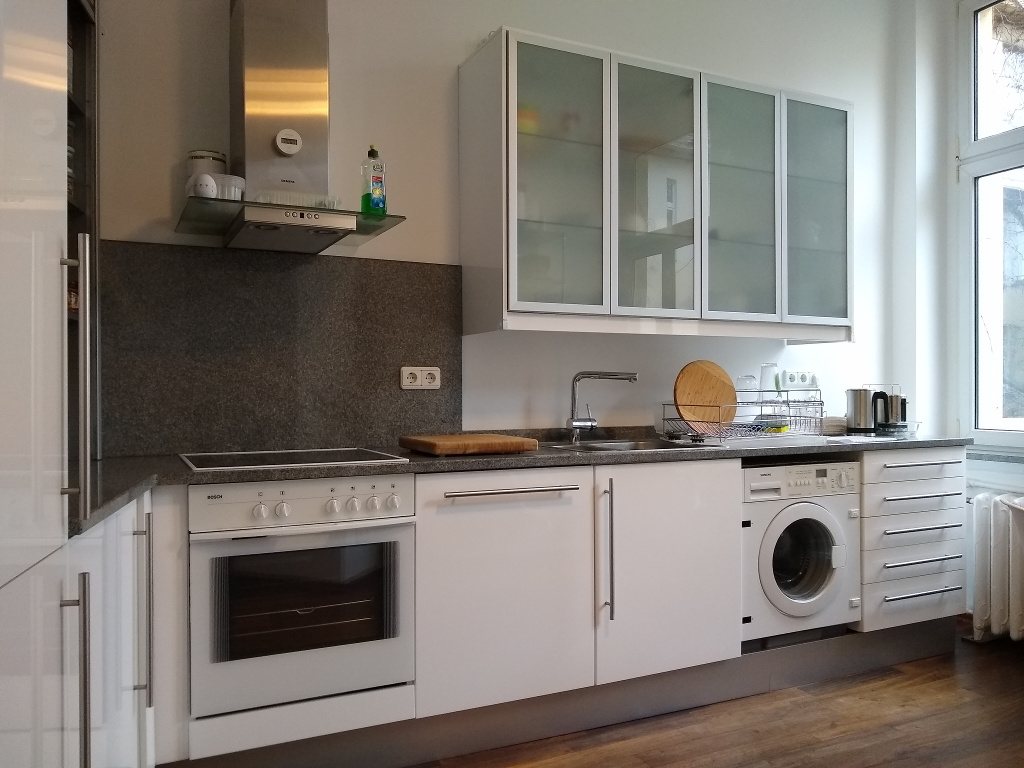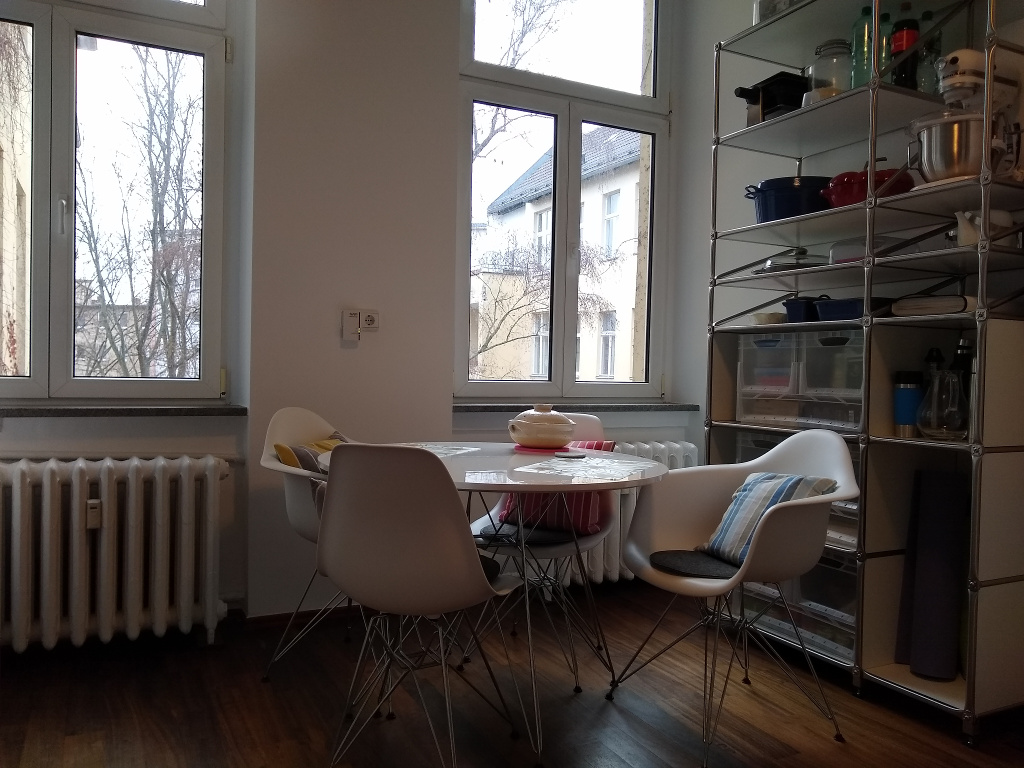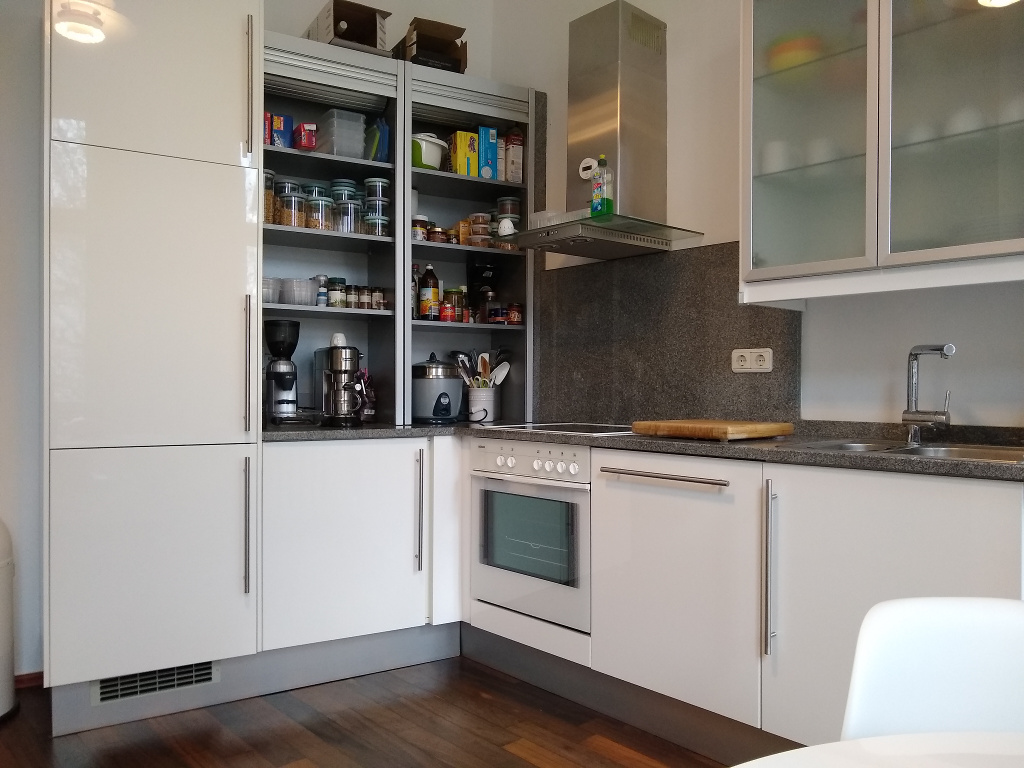 Bathroom
The bathroom is comparatively small, but features both a bathtub and a separate shower.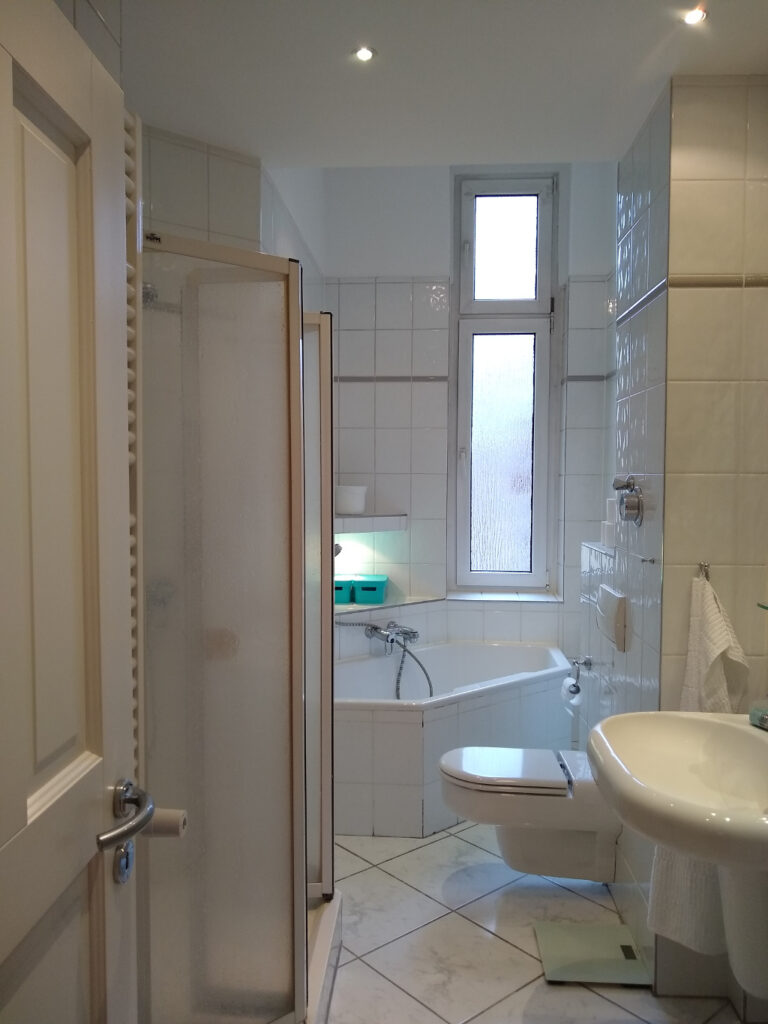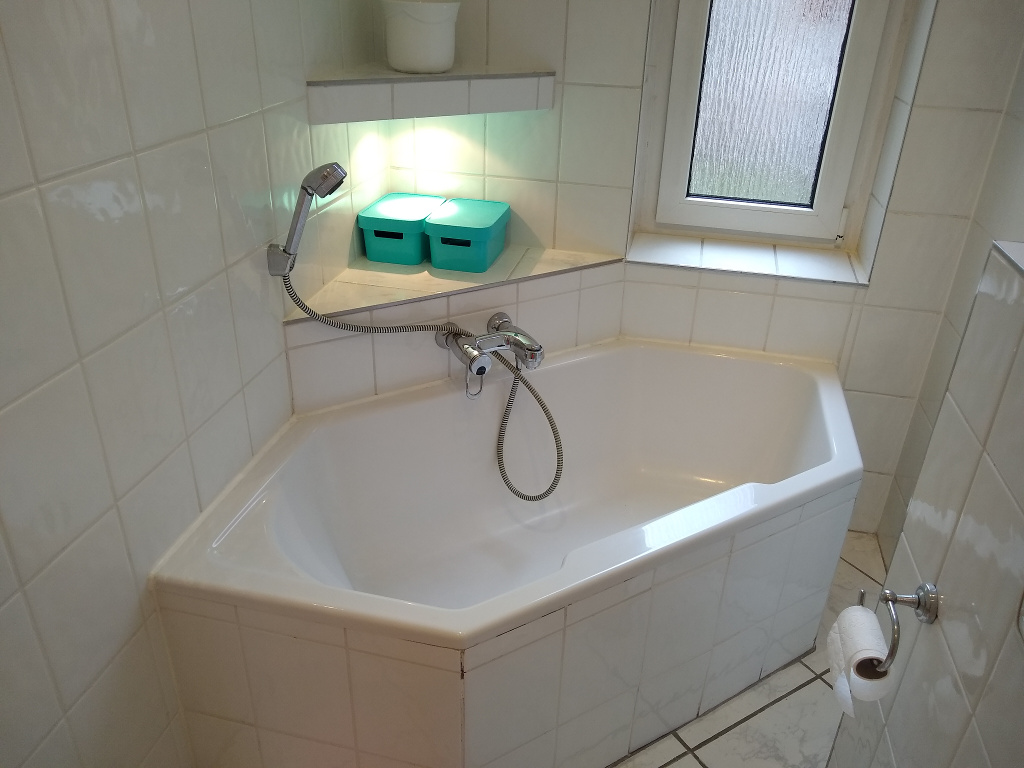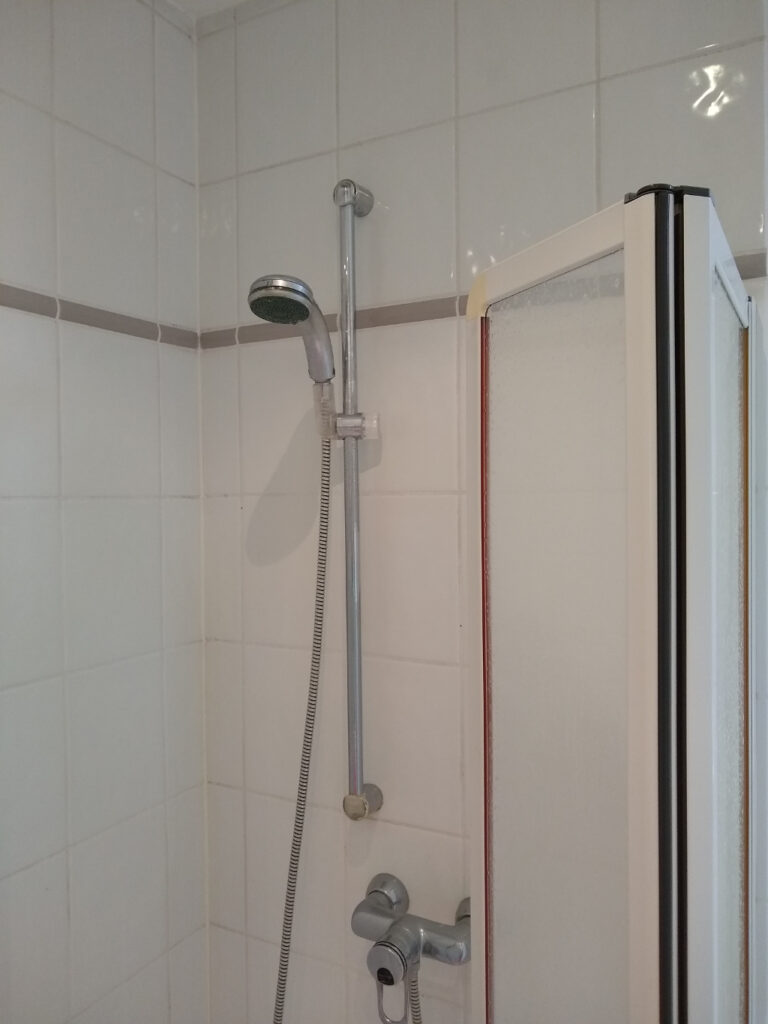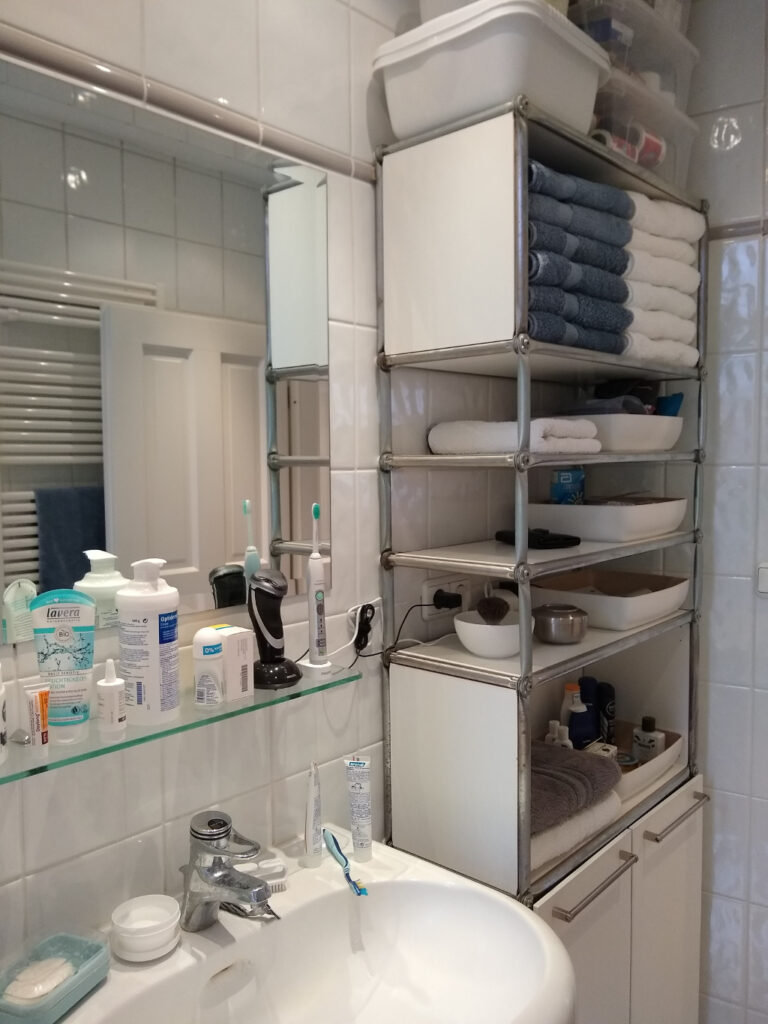 Bedroom
The bedroom sleeps one or two people (one bed, 160cm wide, about queen size).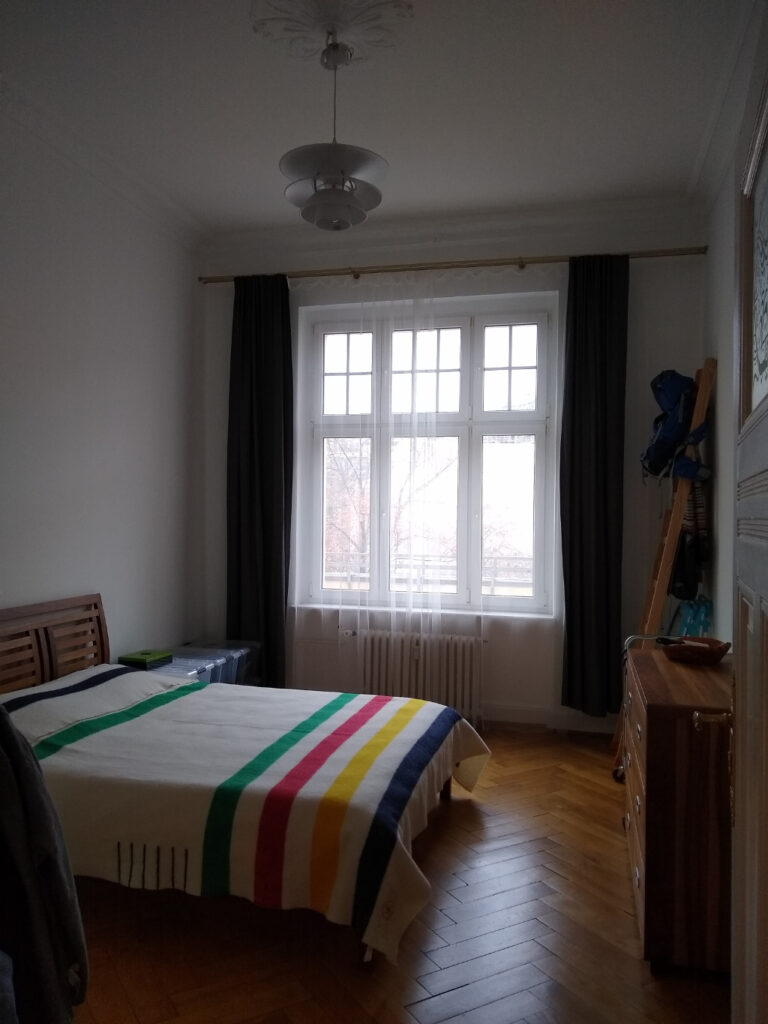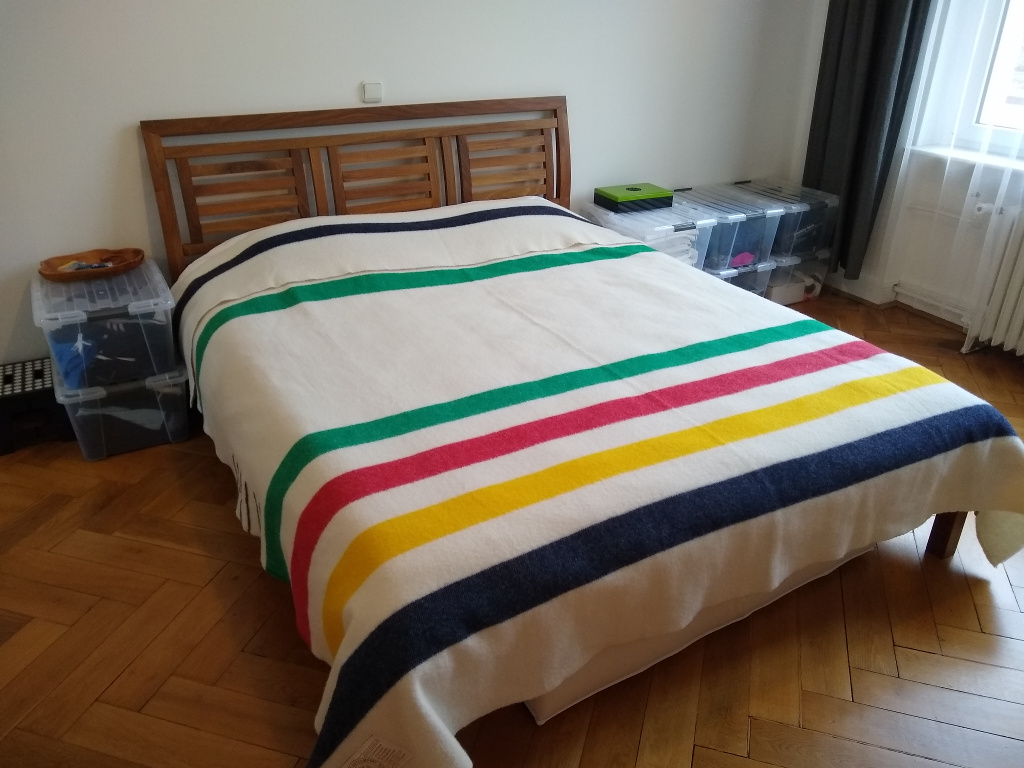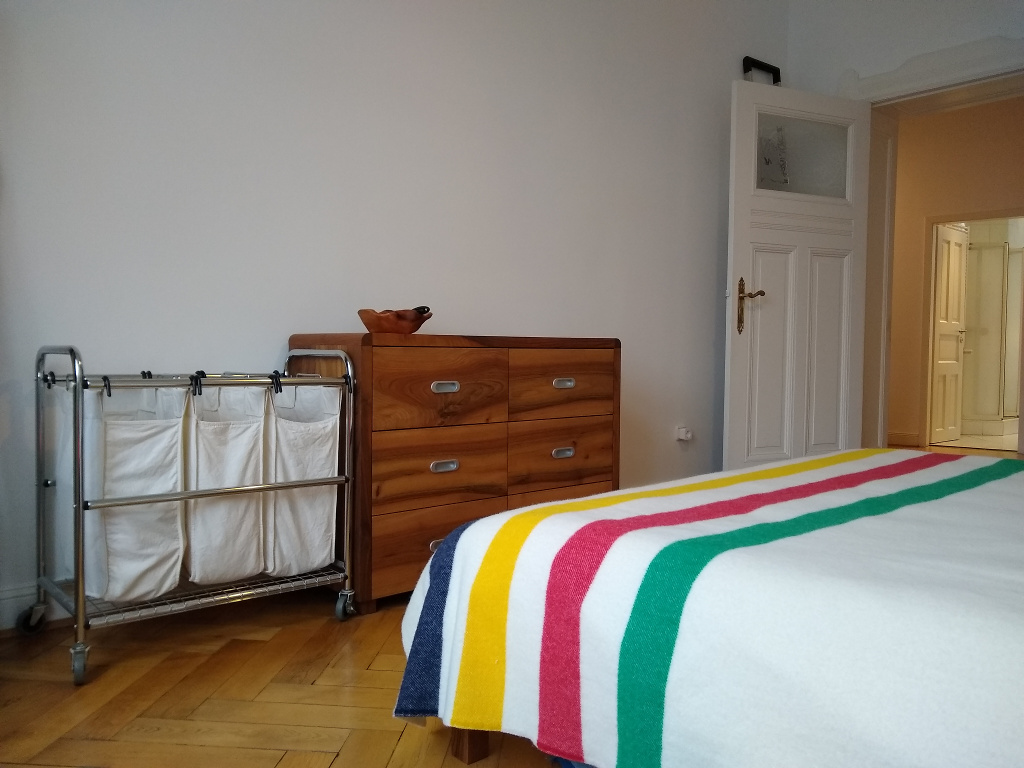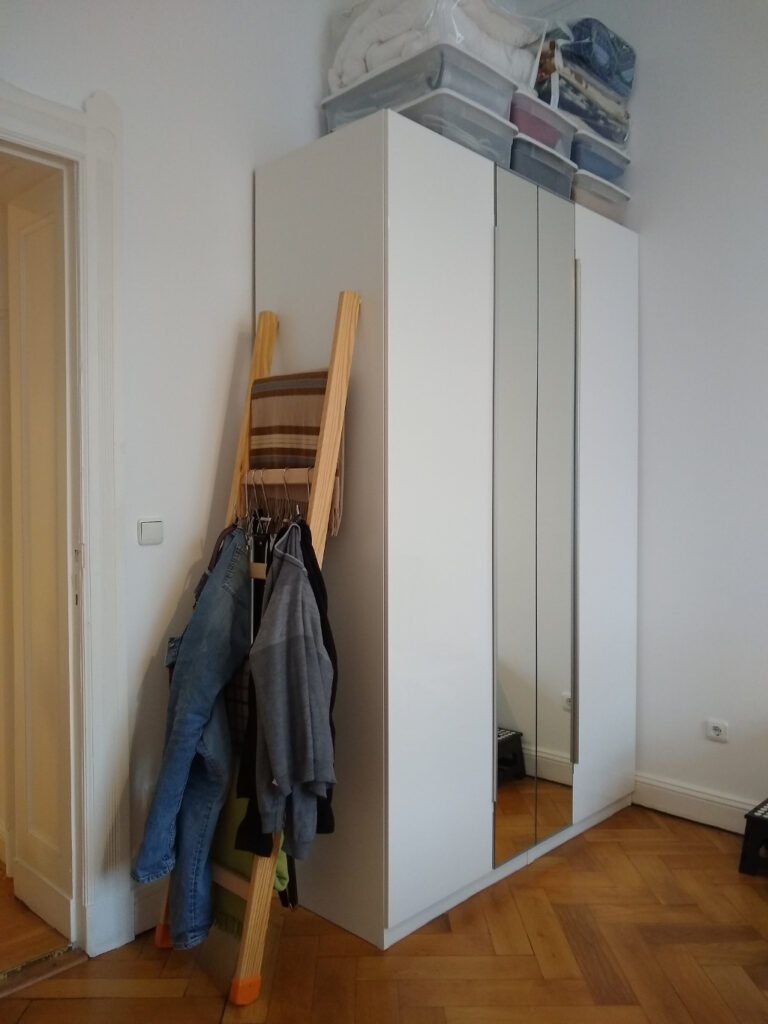 Balcony
As of writing these pages, I had not yet bought garden chairs and a table for the balcony.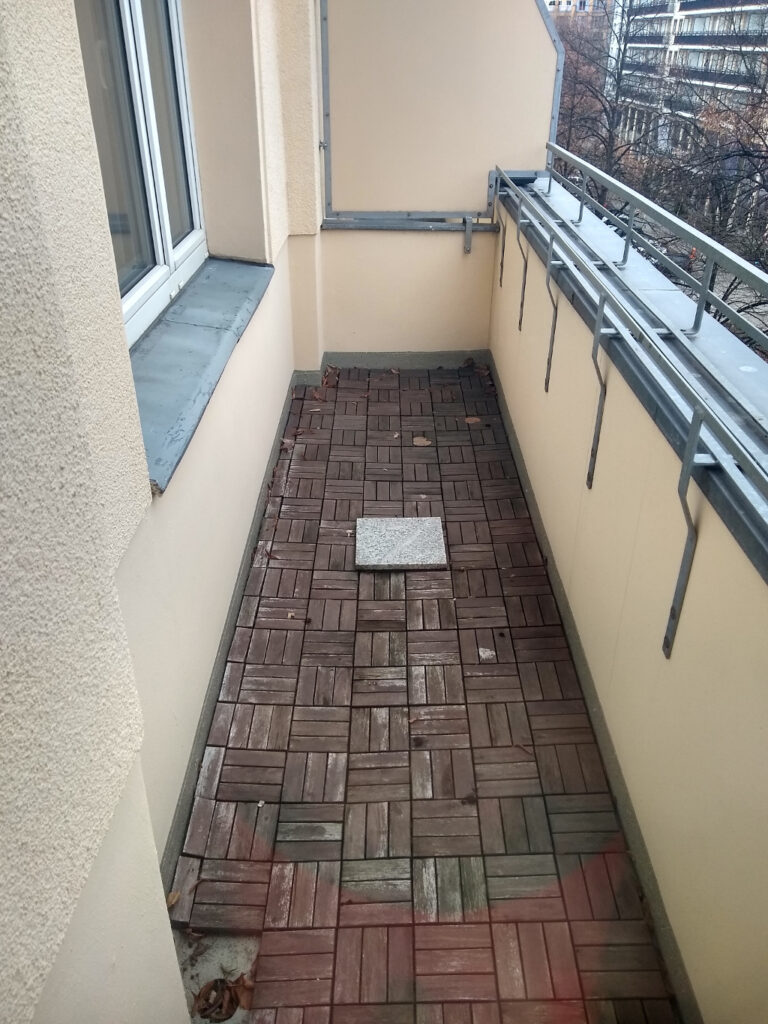 Dining room
Large dining room with a table that easily sits eight people (probably up to twelve, but I only have eight good chairs). One quirk: I hate hanging pictures, so they just stand there on the sideboards, looking frustrated.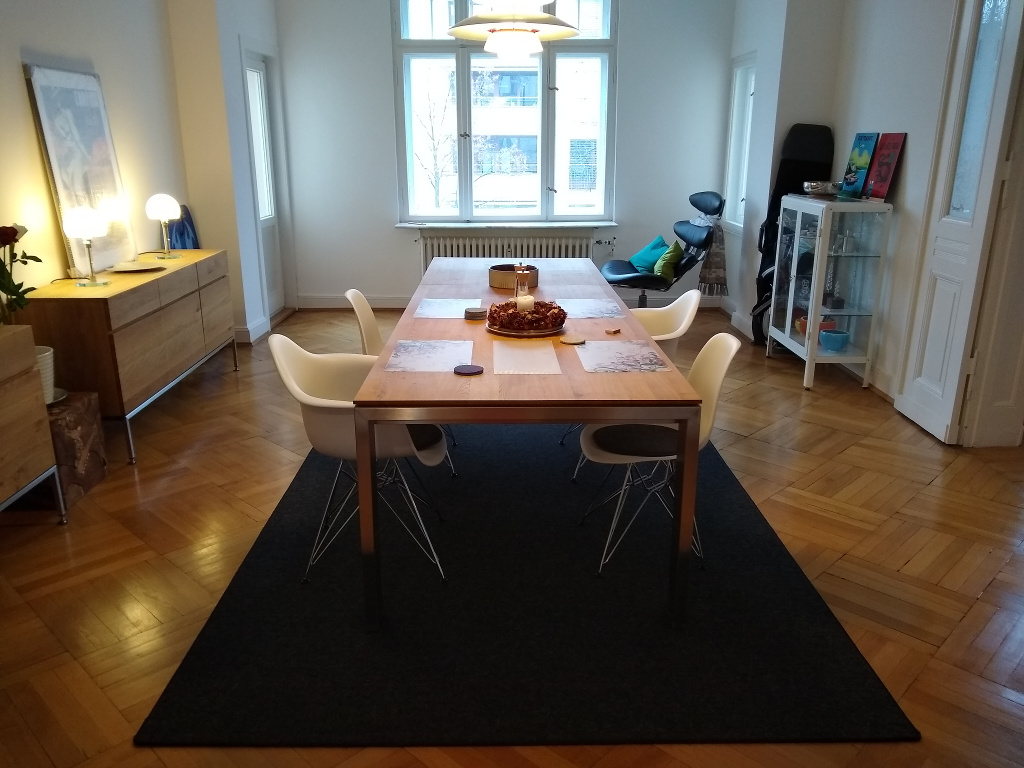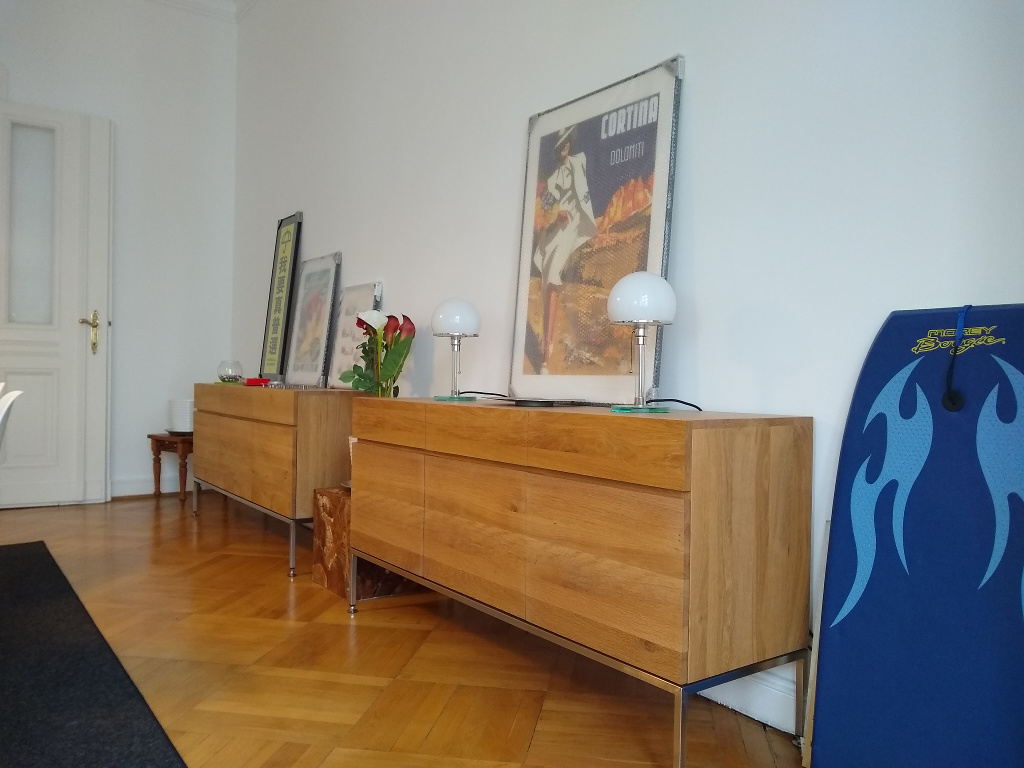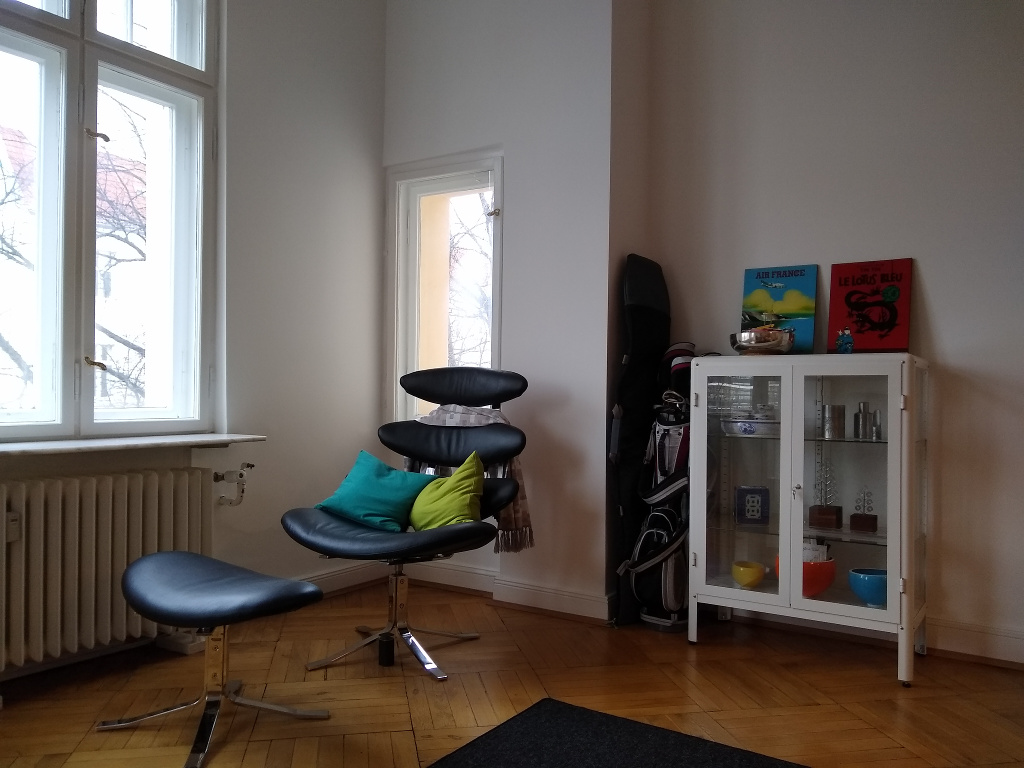 Living room
The living room centers on the 65 inch TV and entertainment. A gaming PC and a video streamer are available for fun and diversion. The living room is not really suitable for entertaining significantly more than two people; the dining room (or, for a more cozy approach, the kitchen) are better suited for this.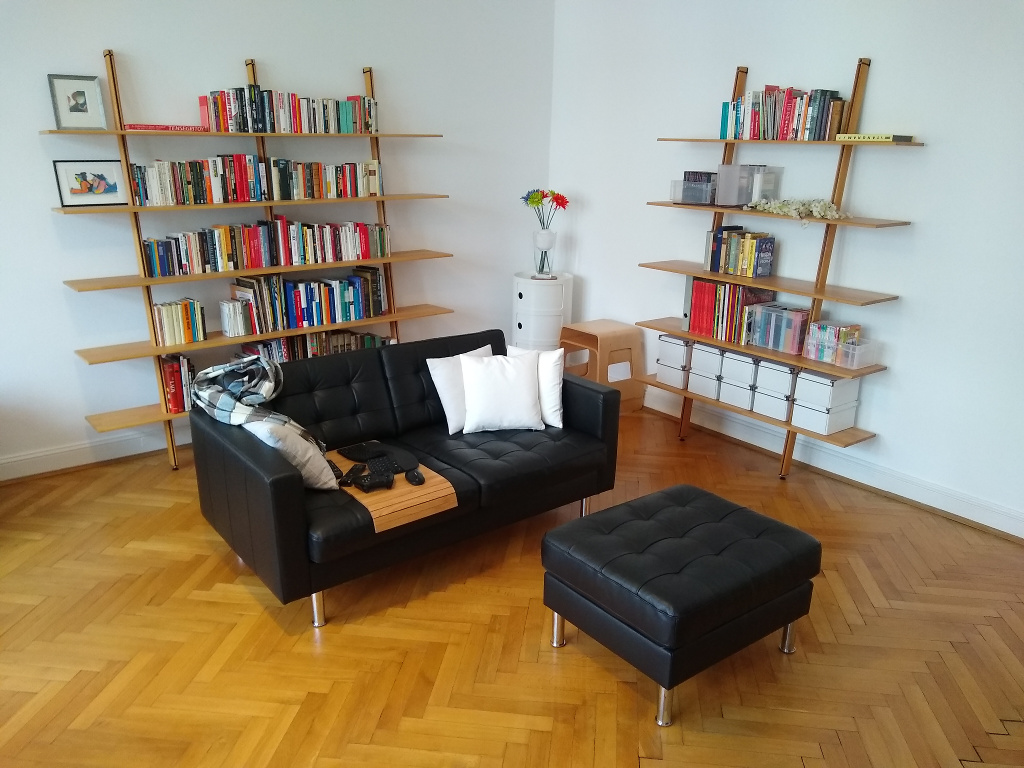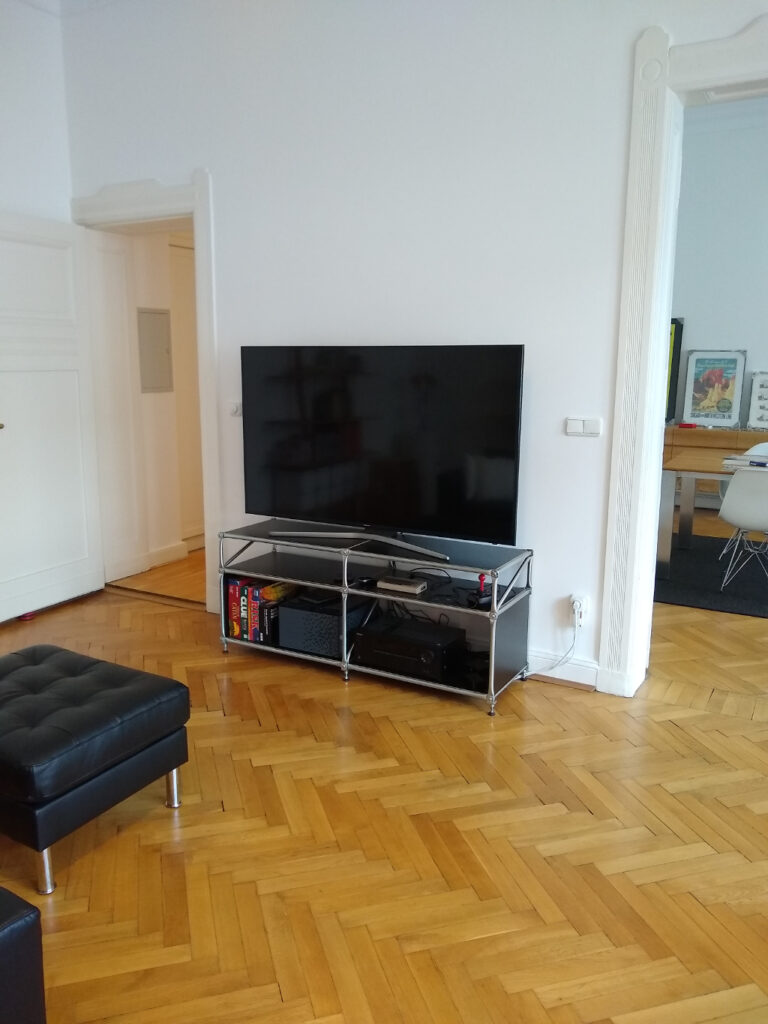 Office
The office features two electrically height-adjustable tables. I usually stand, you have two types of chairs (gym ball and one-legged stool).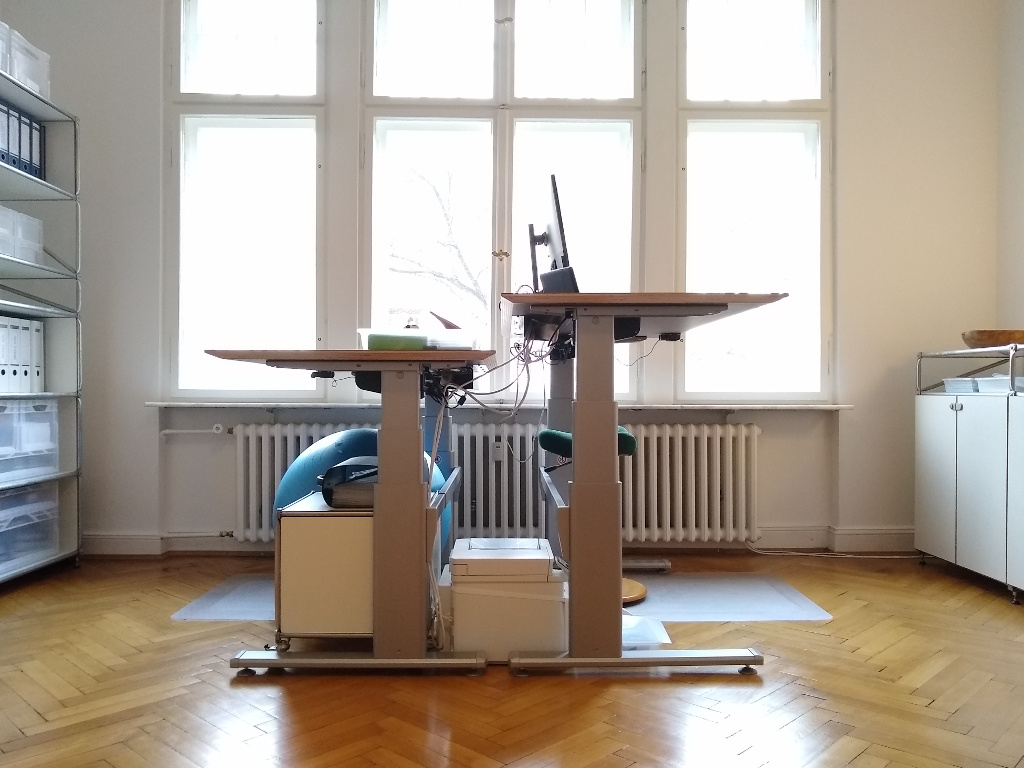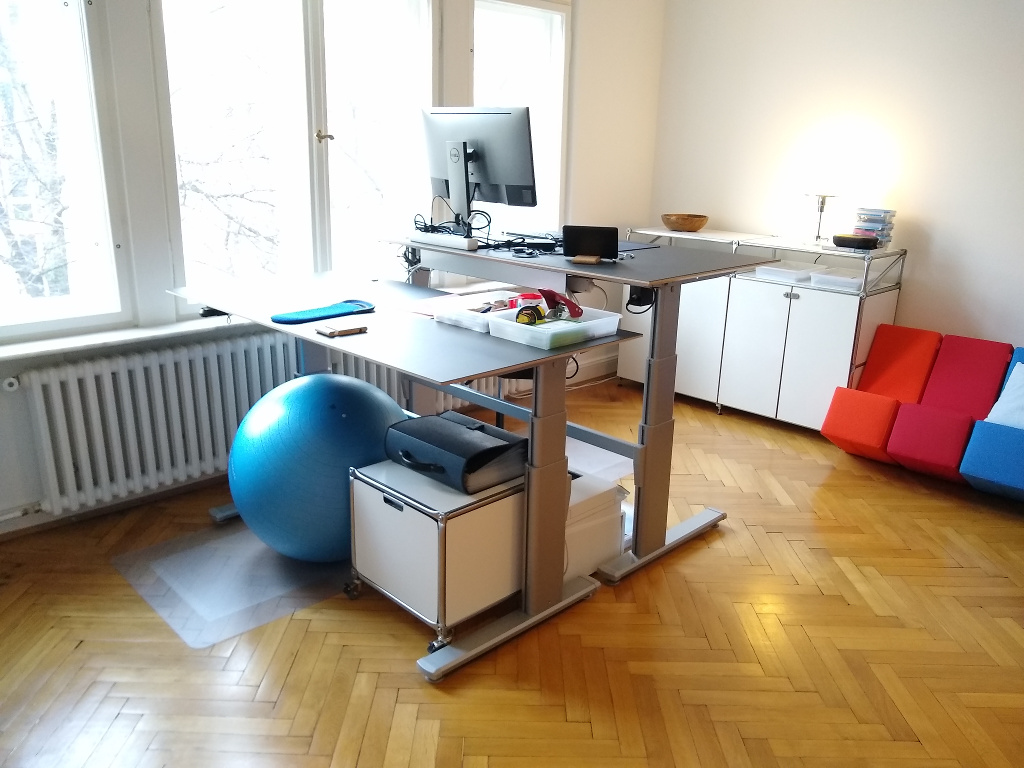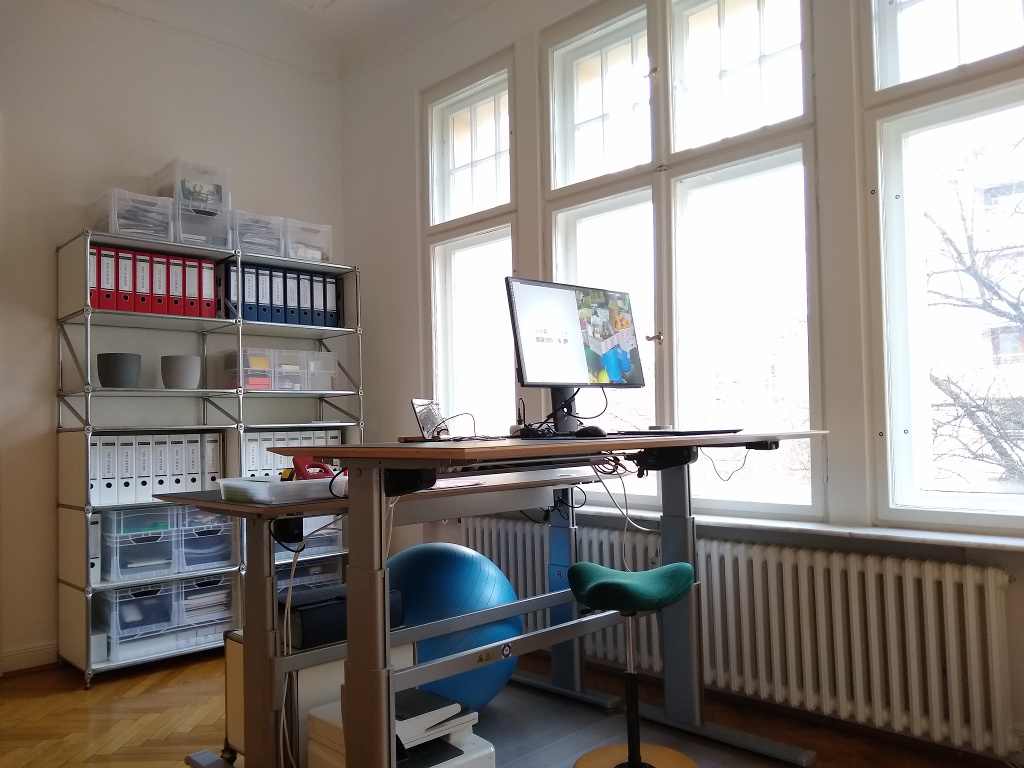 Hallway
The spacious hallway can be reached from the outside through a steel-plated door (with safety keys).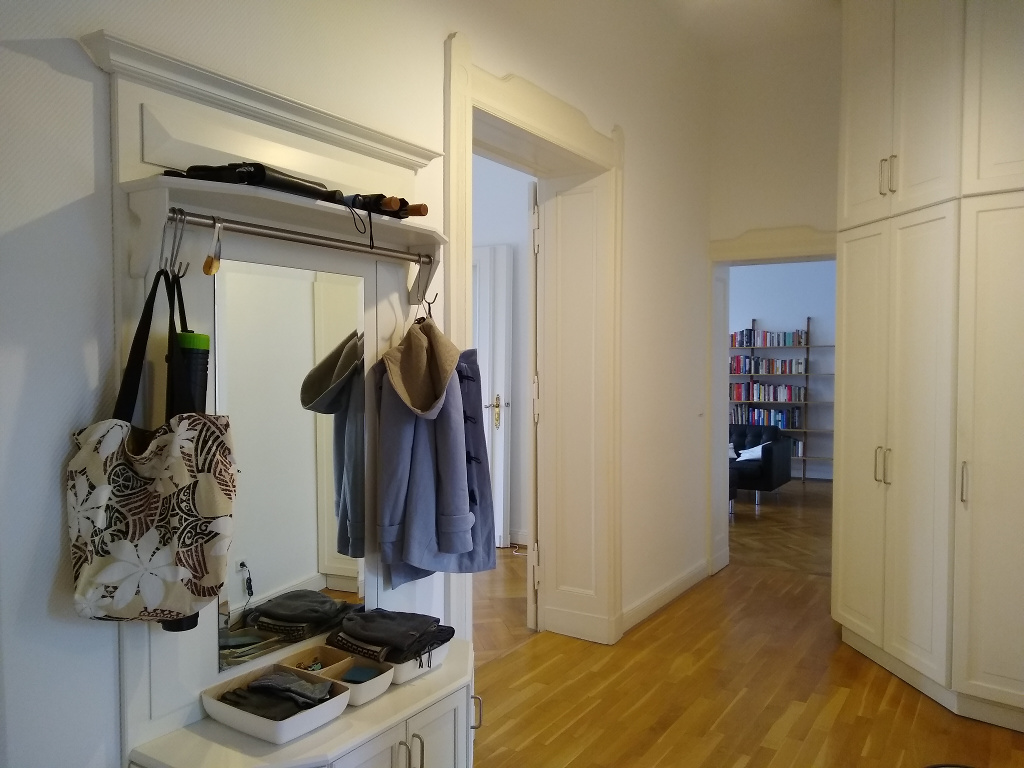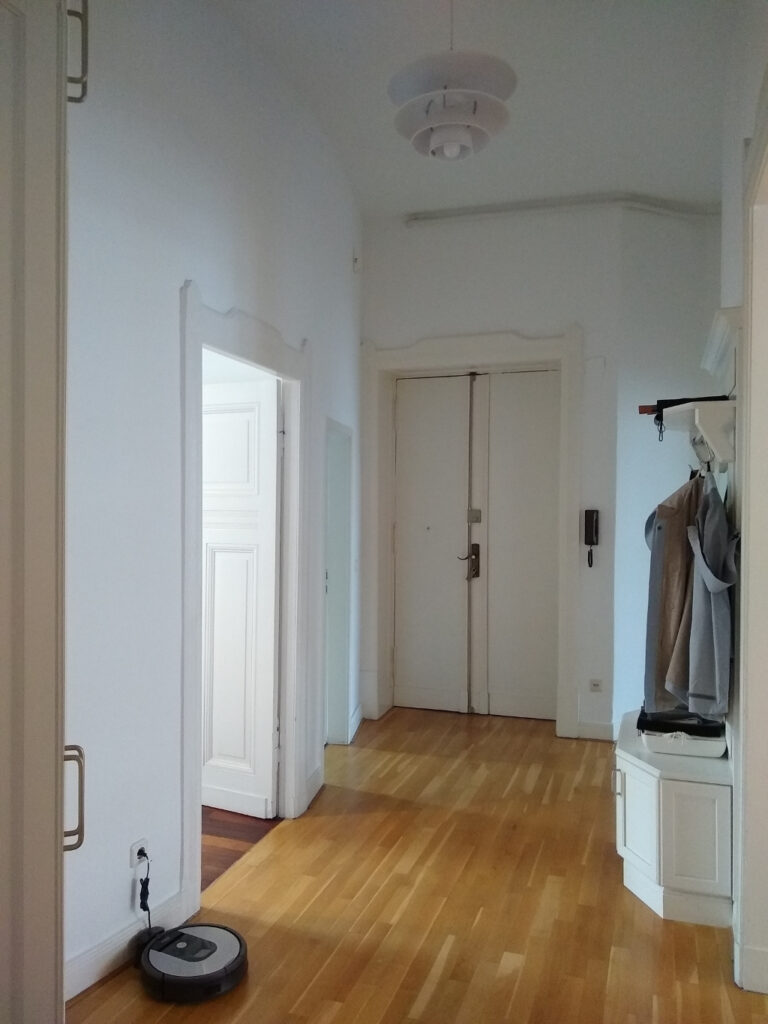 Amenities
The apartment pretty much has anything you need. There are parking spots for bicycles in the inner yard, but not parking spots for cars (there is plenty of street parking available, though.)
The apartment has a washing machine, but no dryer. I hang my clothes on a standing rack to dry over night and it works just fine.
Conditions
Rental period is limited, because I will need my apartment back in winter 2020/21.
No smoking, no pets (robots are fine, though). No remodeling or permanent changes to the apartment, please.
I will make sufficient room available for your clothing and personal effects. Please let me know how much space you need.
German rental contracts put the burden of maintaining the apartment on the renter: You have to return the apartment in the form you received it. So you'd have to fix even regular wear and tear. With the short rental period, it makes little sense to require this, so I'm waiving any basic wear and tear requirements.
Rental fees
1950 Euro per month. Two month security deposit, to be returned when you move out.
Internet and utilities are included, I don't think it makes sense to ask you to register separately for it.
If you are from the California Bay Area, I'll happily consider an in-kind swap between your and my house / apartment. Given that the income from this rental fee will barely cover a room in a shared house, I'm willing to pay the difference.